Disclaimer: I am in no way a professional traveler, but I've had my fair share of crazy, immerseful experiences that I'd like to share with you. These tips have saved me a lot of money, time, and stress during my travels!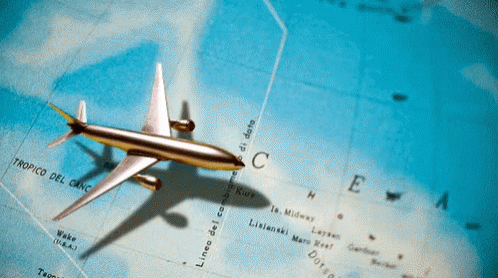 For reference, I have been on 2 study abroad trips in Europe, one in Spain and one in Greece. I have also planned a spring break trip to the Dominican Republic, and have done some traveling within the U.S.

Also, before getting this list started, I would like to recommend studying abroad (if you have the opportunity). My study abroad trips had nothing to do with what I actually studied in school, but they were the best experiences I ever had while in college. There are so many grants and scholarships available that if you do it right, flights and tuition can be FREE. Yes, you read that right: I traveled, studied, and lived abroad twice (for a total of ~3 months) and only had to pay for expenses while I was overseas. Please let me know if you would like more info/advice on this topic.

Anywho, here is my list of travel tips that I have found useful:

Pack light
Duh. This one is almost impossible for me. I am the QUEEN at overpacking, but I've been getting better at it. Depending on how long you are traveling for, this one is really easy to get around. By only packing the essentials you can save yourself a lot of money and time. For example, if your flight doesn't include a checked bag, pack a personal item and a carry on. No, a personal item is not your small purse you use on the daily. A personal item can actually be a pretty large bag, as long as it fits under the seat in front of you, and carry on just has to fit in the overhead bin. Even if your flight does include a checked bag, I recommend taking a personal item and carry on instead because I'm always worried that my checked bag will get lost, so having everything with me while I'm traveling is the safest way to do it.

However, If you're going on a long trip, a study abroad for example, overpacking may actually work in your favor. My last study abroad was 1 month long, so I literally packed 30 pairs of underwear in my checked bag. I fully support rewearing jeans, shorts, and even some tops because no, I don't think everything needs to be washed after wearing it for one day. By strategically overpacking on certain items I didn't have to do laundry one time while I was overseas. This saved me a lot of time and money while I was away. However, this is definitely just a preference. If you do not mind taking the time and money to do laundry every week, then packing lighter may be the best option for you.
Always use an incognito window when flight searching
Google and other web browsers track what you are doing on the internet, so if Google sees that you have been searching for round-trip flights to Paris, then they will jack up the prices the more you search for this trip. An incognito window doesn't track your searches, so you should be getting the best prices on flights no matter how often you are looking.
Look for package deals
When my friends and I were planning our spring break to the Domincan Republic, we found the best prices when we bought our resort and flights at the same time. We found it to be the cheapest when we booked on the resort's website directly. Never stop looking on different websites for the best deals. There are even websites for students (like studentuniverse.com) that help students save money on flights/traveling.
Don't plan out every single day
I cannot stress this one enough. I feel like a lot of people think you have to have everything planned, booked, and paid for in advance, but sometimes this might create a lot of stress for others you are traveling with and even yourself. I can say that it is important to have lists and ideas of what you want to do while you are traveling, but taking one day at a time is important. Depending on who and how many people you are traveling with, everyone might not be on the same page every day of the trip. Make sure you are doing things that EVERYONE wants to do. With this being said, don't waste your time doing nothing because you don't have anything planned. Have your lists, contacts, and information ready, then see what the group feels like doing for the day. Life happens differently for everyone, so do not feel pressured to have every second of every day planned while you are traveling. If you do things that other people suggest, you might actually really enjoy it, too.
Long term traveling: actually travel
If you are going overseas for a long period of time, please see and learn as much as you can! No, you don't have to go to 15 countries in 3 weeks, but don't restrict yourself to one city/country. I have found that while in Europe, traveling is pretty inexpensive, if you're willing to spend the money. Look for train, flight, bus, and ferry tickets to different places depending on where you're at. When I was in Greece, I was able to go to 4 different islands and 3 different cities in 4 weeks all while still going to school. I also tried to stay away from the major tourist destinations; places like this are over-populated with tourists, which can make it hard to enjoy the culture and authenticity. There is SO MUCH to see in overseas, so don't think you have to go to only stick to mainstream cities/countries.
Long term traveling: spend the money
While you should always be looking for the best deals, traveling can be quite expensive. The first time I went to Europe was right after my freshman year; in other words, I was young, dumb, and broke. I was too worried about money. When I went to Greece this past summer, I decided I didn't need a budget. I was going to do, see, and eat everything. And I did just that. If you have the opportunity to spend some time in another country, don't be stingy with your money. With this being said, everything you do doesn't have to cost a lot or even anything at all. There are plenty of parks, museums, beaches, etc. to visit that are budget-friendly. Every meal you have doesn't have to be in a sit-down restaurant (which btw, most places in Europe do not expect you to tip (bonus)); however, there are so many street vendors to get food from on-the-go that are half the price of meals at restaurants.
Everyone has different experiences and preferences when it comes to traveling, so make sure to enjoy yourself and try new things!